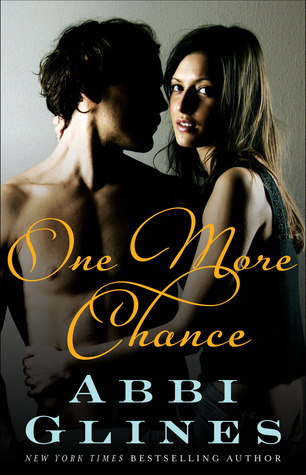 The Hopeless Romantics Book Blog are pleased to be a part of the Release Blitz for Abbi Gline's "One More Chance (Chance #2)."
Synopsis:
Grant Carter did everything in his power to convince Harlow Manning that he was a good guy. More than a smooth-talker and someone she could trust. He had to overcome his reputation as a playboy, and his history with Harlow's half-sister, Nan, a woman with a reputation of her own.
Harlow had taken the chance, falling hard and fast for the guy who thrilled her with his all-consuming desire. After a lifetime of avoiding bad boys like Grant, she had opened herself to the possibilities of love...
But a life-changing secret has torn them apart, and now Grant and Harlow must decide if they have enough fight to make it work - or if the pain of betrayal has permanently destroyed their future.
Excerpt: Grant
My phone rang, and for a second, my heart stopped. For a split second, I let myself hope it was Harlow. Even though, deep down, I knew it couldn't be her. Glancing down at the phone, I saw Rush's name lighting up the screen. He wasn't Harlow, but he was the only connection I had to her right now. "What?" I said into the phone as I stared up at the ceiling.
"Not sure why I call your grumpy ass anymore," Rush replied.
I wasn't sure, either. But if he called, I would answer. Even if he didn't know where Harlow was, he was the only one I could bring myself to talk to about this. I felt he understood. He might be the only person who understood just how torn-up I was.
"It's late," I told him.
"It's not that late. Blaire just went upstairs to rock Nate to sleep."
Rush had his happy little life now. A wife he worshipped. A son he adored. I was happy he had everything he ever wanted. Neither one of us had known what a normal, healthy family was like. Now he did. Now he had that. But me . . . maybe I could have when Harlow was still here. Maybe.
"I know you're not in the mood to talk, but I'm just calling to check on you. Blaire mentioned that I needed to call you and see how you were before she went upstairs."
Apparently, Blaire really had forgiven me. I wished I could tell Rush I was fine. That I could breathe normally and my chest didn't continually ache. That I didn't feel lost and helpless. But I couldn't tell him that. The truth was, I needed Harlow.
"Were you OK when Blaire left you?" I asked him, knowing the answer already. I had been there. I had forced him to get out of the house.
"No," he replied. "You know I was a complete mess."
"Yeah," was my only response. At that point, I hadn't un­derstood him. But now it all made sense. He had been ripped in two, and he was expected to live each day like everything was normal, clinging to the hope she'd come back to him. "I'm sorry for making you leave your house and get out back then. I didn't get it."
Rush let out a low, hard chuckle. "It might have helped me some. Don't apologize. Sitting around thinking about it would have fucked me up worse. I didn't have a job to lose myself in every day like you do."
"Have you talked to her?" I asked, unable to help myself. I needed something. Anything.
"She's good. She's safe. She asked how you were. I told her you looked like shit and you weren't doing so great."
>If she was listening to my voice mails, she would know that already. I wasn't holding anything back when I called her. I was wide open with her, baring my soul. "Will she ever forgive me?" I asked, closing my eyes, afraid of his answer.
"She already has. She just isn't ready to open up again yet. She's dealing with a lot right now. Her mother and Kiro, then this . . . just give her more time."
If she'd forgiven me, why wasn't she listening to my voice mails? Why wasn't she at least answering when I called? "Tell her I just want to hear her voice. She doesn't have to talk to me long—just a minute. I want to tell her I love her. I want to tell her I'm sorry. I . . . just need to tell her I need her."
Rush was silent a moment. Anyone else would have made fun of how vulnerable I had become. Not him. "I'll tell her. Get some sleep. Call me and check in some. Blaire worries."
I swallowed against the lump in my throat. We said our good-byes, and I dropped the phone to my chest and closed my eyes, letting images of Harlow fill my thoughts. They were all I had now.
About the Author:
New York Times, Wall Street Journal, and USA Today bestselling author of TWISTED PERFECTION, FALLEN TOO FAR, NEVER TOO FAR, JUST FOR NOW, WHILE IT LASTS, BECAUSE OF LOW, BREATHE, THE VINCENT BOYS, THE VINCENT BROTHERS, THE EXISTENCE TRILOGY.
When Abbi isn't locked away in her office typing away she is hauling her kids to and from their many social activities. You could say her second job is the Glines Kids personal chauffeur. It's a rather illustrious job.